NileCosmoderm for Cosmetic Dermatology and Laser is one of the largest centers, located in Nasr City and Maadi, Cairo, Egypt. Our mission is to provide a new vision in cosmetic dermatology and laser and to blend state-of-the-art medical technology with a dedication to provide you with the best possible care. Rightfully, our patients expect the best from us, and we strive to meet and exceed these expectations.

NileCosmoderm was founded in 1997 by its current director Professor Ahmed M. Salem, M.D., a pioneer in the field of cosmetic dermatology and laser. Dr. Salem is a professor in Faculty of Medicine, Cairo University. He has undergone extensive training in both cosmetic dermatology and laser in Europe and USA. Professor Salem is an international speaker; he has many national and international presentations. He has many publications and has conducted many workshops and training courses in cosmetic dermatology and laser. He is the president of the Afro Asian Society for Cosmetic Dermatology and Laser (ASCDL) and a member of many national and international societies: European Society for Laser Dermatology (ESLD), European Academy of Dermatology and Venereology (EADV), and European Society for Cosmetic and Esthetic Dermatology (ESACD).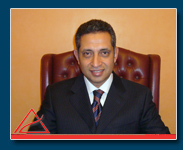 NileCosmoderm offers a full complement of services and a caring, well-trained staff - all of whom put patient care first - to make your experience at the center as "patient-friendly" as possible. See how you can benefit from all of our years of experience and the latest advancements in laser equipment and skin care products. Let us help you improve your appearance and be free of the unwanted hair, unsightly veins or fine facial lines that are impeding your appearance or lifestyle.

Because we understand the personal and professional demands on your time, we offer consultation appointments during both the evening and afternoon 6 days a week (Fridays off).